Download Wall Waiver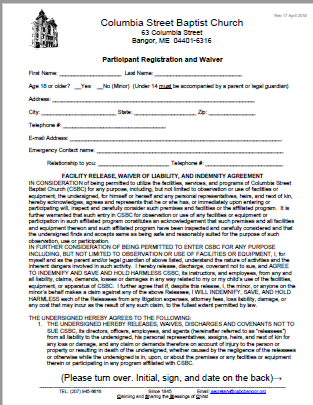 Please print waiver front-to-back
Our climbing wall, located in the church gym at 45 Columbia Street, is family-friendly and open to the public free of charge each Thursday from 6 to 8 PM.  Access is up the alleyway between the church and the brick building.  All ages and experience levels are welcome.  All climbers must complete a waiver form - waiver forms for children under the age of 18 must be signed by a parent or legal guardian, and children under 14 must be accompanied by a parent or legal guardian. 
 The Columbia Street Baptist Church Climbing Wall is
OPEN TO THE PUBLIC
THURSDAYS 6 TO 8 pm
 Whether you are an experienced climber or have just always wanted to try it out, we have all the equipment and trained support staff that you need for a safe and fun evening of Climbing.